About JS Pest Control
Serving the Entire Las Vegas Metro Area, Including Henderson, Summerlin and Boulder City
About Us
Known in and around town as the best pest control company in the industry since 1999, we at JS Pest Control combine exceptional service with a superior level of expertise. We understand the importance of having a home and property that is safe, comfortable and pest free. That's why we offer our customers only the most knowledgeable and capable pest control professionals, performing customized treatments certified by an entomologist. We pride ourselves on our excellent client relationships and aim to provide our customers with the most positive experiences. That's why our clients frequently refer our services to their friends and family members. We believe that your home should be your favorite place, and at JS Pest Control, we're dedicated to making sure it stays that way.
With local ownership, personalized service, and over 20 years of experience, we have the expertise and resources to serve the entire Las Vegas Metro Area, Including Henderson, Summerlin and Boulder City. JS Pest Control is licensed and insured in Las Vegas. We are a part of the Nevada Pest Control Association and recognized as an A+ rated BBB Accredited Business.
Jimmy Stephensen
Born and raised in Las Vegas, Jimmy Stephensen knows the desert – and its inhabitants – like the back of his hand. Initially earning his Pest Control Operators License in 1996 and his Principal Pest Control License in 1999, Jimmy has over 20 years of experience in Las Vegas pest control. Jimmy established JS Pest Control in 1999, and the company grew to become the largest independently owned pest control company in Nevada. In 2007, the company acquired Enviro-Pro Pest Management Services, merging the companies into the premier Las Vegas pest control service.
Jimmy's love of Las Vegas is apparent through his community involvement. He attended Bonanza High School and Southern Utah University, and is actively involved in Las Vegas motorsports.
Through the years, Jimmy has received many awards and acknowledgments for his talents as one of the best motorsport drivers in Nevada. Participating in races throughout the country is one of the only activities that pull Jimmy away from his Las Vegas home. Jimmy's racing sponsors include No Fear Energy and Skin Industries.
Why Choose Us?
We've been in business
since 1999.
Locally Owned & Operated
Residential & Commercial Service
Evening & Weekend Appointments Available
24/7 Emergency Service
Free Inspections
Phones Answered by Live Knowledgeable Pest Professionals
All Major Credit Cards Accepted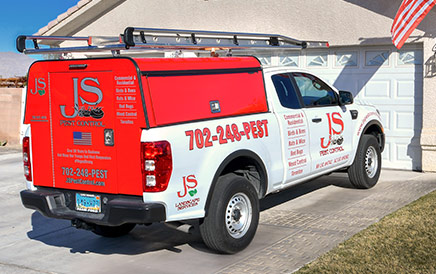 Call JS Pest Control now to find an appointment that is convenient for you and sleep well again.