JS Pest Control Mice and Rat Removal
Serving The Entire
Las Vegas Metro Area, Including Henderson, Summerlin and Boulder City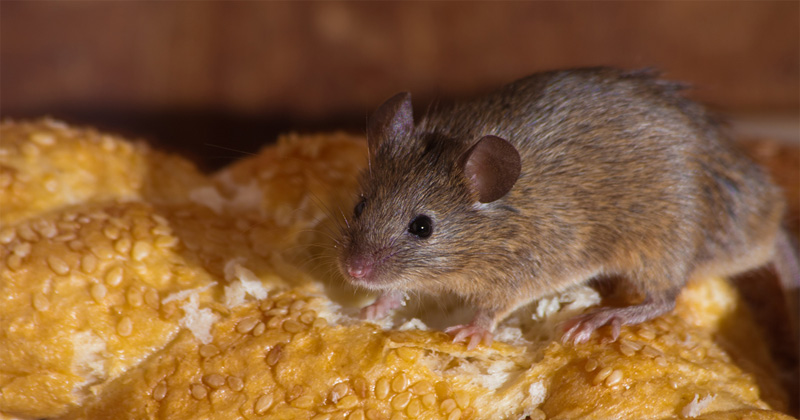 JS Pest Control Mice and Rat Removal
Serving the Entire Las Vegas Metro Area, Including Henderson, Summerlin and Boulder City
1(888)906-7442
Signs of Roof Rats, Norway Rats & Mice
Mice and rats generally prefer to be outdoors, but they will come into homes to look for food, water, and warmth. Las Vegas is prone to mice and rat problems year round, but most people notice mice during the colder months. The winter is a popular time for extermination services.
If rodents find a warm, safe place they will likely stay. If you suspect you have a mouse or rat problem, you probably do. Unfortunately, most people wait too long. Rodents procreate quickly, so infestations can grow rapidly. Larger colonies are more difficult to eliminate, so call JS Pest Control at early signs of infestation.
Droppings
These are about the size of a grain of rice with pointed ends. Mouse droppings generally have hair from grooming. Look for puddles of urine as well.
Sounds
Listen for sounds in the walls or roof. Other insects could also be making the sound, so it's best to look for additional signs.
Sightings
Sightings typically occur in the evening, but mice can be seen during the day, especially if you disturb a hiding place. Look for partially eaten food near sightings.
Gnaw Damage
Rats' teeth grow constantly, similar to fingernails. To maintain their teeth, rats gnaw on wood, plastic, cardboard, or electrical cords.
Nests
Depending on the rodent type they will live in nests or burrows. Check for nests consisting of torn paper and debris behind appliances and inside crawlspaces.
Tracks & Footprints
Look for tail marks and footprints in low-traffic areas, such as sheds. In your home, look for rub marks along your baseboards where the mice or rats may run parallel to the wall.
Mice have hairless tails and are typically a dark grey color, while rats are brown or grey and have hairless ears. Both can be a nuisance when they have invaded your home. Mice & rats tend to gnaw and chew on things, which can cause damage to furniture, wood paneling, and electrical wires. On top of the damage they cause, they carry up to 25 communicable diseases including HPS, EMCV, and Rat Bite Fever. Mice can carry diseases through their droppings and their bites. Rat Bite Fever can cause rashes, headaches, and nausea. Transmission can occur through bites, contact with urine, and handling or eating contaminated food.
Rodent populations in the wild are kept down by natural predators, but the number of rodents can boom in houses and offices where food and safety are abundant and temperatures are comfortable. Mice can produce 3-16 young per month and rats can produce 2-33 young per month, so call JS Pest Control to treat your home or office at the first sign.
Trust JS Pest Control to set up baiting and traps for your home, office or complex. We are the local experts in rodent control!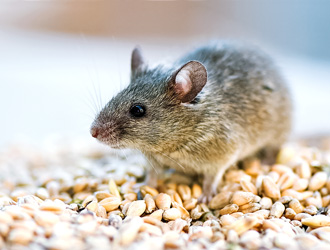 Protection Plan
Our Protection Plan will prevent and control mice and rat infestations in your home or office. Our trained technicians will conduct a thorough inspection and create a rodent control program that will be effective and responsible in order to protect the health and security of your home and family. Call us today and ask one of our representatives to arrange a service that meets the pest control needs of your home or business. All work is guaranteed under our service plans.
Prevention
We recommend the following preventive procedures for your home and office in order to prevent infestations from developing and growing:
Trim trees and bushes at least three feet away from buildings.

Cover garbage cans and remove any debris away from exterior of building.

Weather-strip exterior doors.

Seal crevices around doors, windows, vents and outdoor plumbing entry points.

Screen all windows and vents.

Keep food, garbage and birdseed in sealed containers. If you have birdfeeders clean up bird seed that falls onto ground.

Store all food products including coffee, tea, sugar, salt, jelly etc. in closed tight lidded hard plastic or metal containers.

Clean all food debris from your areas where you eat and your office desk area, lounge tables, and food and coffee preparation areas on a daily basis.

Do not throw out wet or moist drinks or food in garbage receptacles but instead wash out food and drink containers in a sink before disposing.

Try to keep all storage materials off the floor in your basement, garage, crawl space and offices in order to eliminate nesting areas and allow for thorough inspections.

Correct exterior and interior moisture problems including leaking flashing, clogged gutters and downspouts, roof leaks, plumbing leaks.
Why Choose JS Pest Control To Treat Mice & Rats?
Conduct an inspection of your property inside & out

Identify possible entry points

Install rodent trapping devices, inspect and service for 2-3 weeks

Install locked, tamper resistant rodent control stations

Add stations if necessary & seal entry points
Why Choose Us?
We've been in business
since 1999.
Locally Owned & Operated
Residential & Commercial Service
Evening & Weekend Appointments Available
24/7 Emergency Service
Free Inspections
Phones Answered by Live Knowledgeable Pest Professionals
All Major Credit Cards Accepted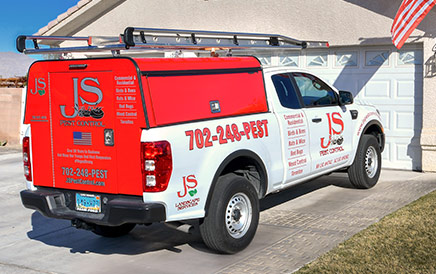 Call JS Pest Control now to find an appointment that is convenient for you and sleep well again.

When you call JS Pest Control, a technician will come to your home or business and perform a complete initial consultation at no charge.

Next, we will develop a pest elimination program designed for you by your technician and our team of in-house entomologists.

Be confident that you will have the best solution for your individual problem. Call JS Pest Control now and schedule your free initial consultation.