JS Pest Control Termite Control
Serving the Entire
Las Vegas Metro Area, Including Henderson, Summerlin and Boulder City
JS Pest Control Termite Control
Serving the Entire Las Vegas Metro Area, Including Henderson, Summerlin and Boulder City
1(888)906-7442
Termites are small (less than half an inch), winged insects. Termite colonies can have up to 2 million members, and they are prepared to silently eat the inner structure of your home. You may have a termite infestation in your home if you see swarming termites, which look like hundreds of flying ants. This typically happens in spring.
You may also see termite tubes or mud tunnels, which are typically found around the foundation of your home. These are the tunnels that the termites use to travel to and from their colony. They can look like mounds near the foundation or mud straws about the width of a pencil.
You may find discolored or drooping drywall and paint that is beginning to peel. These signs are sometimes overlooked as water damage.
You may find damaged wood in your home. It should take a long time to see this because termites work from the inside out. If the damage is visible you may have an advanced infestation. You can also tap the wood in areas of your home that you suspect and listen for a hollow sound.
If you notice any of these signs, take a photo and email it to office@jspestcontrol.com. Our team of professionals will evaluate the photo and email you back with a response if we need to schedule a free inspection. This service is provided at no charge.
Why Treat for Termites
Termites can cause costly damage to a home and that is largely due to their ability to go unnoticed with several underground nests or colonies until the structure of your home has already been undermined. Termites can feed on drywall and wood beams and siding. They feed from the ground up, which can even destroy the integrity of your home's foundation. Termite damage can be costly and is often not covered by home insurance. Once an infestation has been recognized, it should be dealt with quickly. Termites are resistant to home treatments, so termite control should be handled by experienced pest control professionals. Having a termite inspection if you haven't had one in a while, or if you have recently moved, can save you the headache and costs of repair.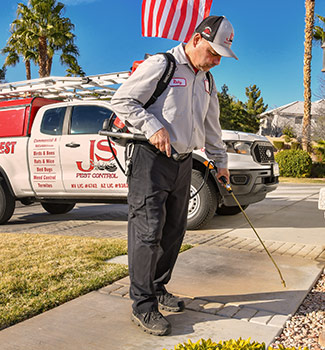 Why Choose JS Pest Control To Treat Termites?
We Use Bait That Destroys Termite Colonies In 1 Visit

Treatment to Create a Barrier to Rid Your Home of the Entire Infestation

Use of the Most Effective Termite Elimination System Available

Treatment That Has Successfully Defended Over 4 Million Homes

Free Quote on Termite Pre-Treatment, Often Required for a Homeowners Loan
Why Choose Us?
We've been in business
since 1999.
Locally Owned & Operated
Residential & Commercial Service
Evening & Weekend Appointments Available
24/7 Emergency Service
Free Inspections
Phones Answered by Live Knowledgeable Pest Professionals
All Major Credit Cards Accepted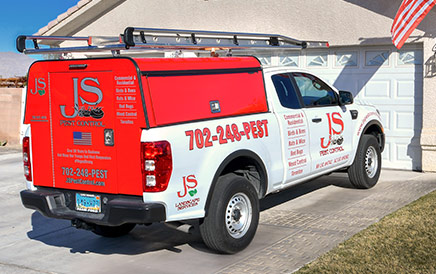 Call JS Pest Control now to find an appointment that is convenient for you and sleep well again.

When you call JS Pest Control, a technician will come to your home or business and perform a complete initial consultation at no charge.

Next, we will develop a pest elimination program designed for you by your technician and our team of in-house entomologists.

Be confident that you will have the best solution for your individual problem. Call JS Pest Control now and schedule your free initial consultation.