JS Pest Control Spider Control
Serving the Entire
Las Vegas Metro Area, Including Henderson, Summerlin and Boulder City
JS Pest Control Spider Control
Serving the Entire Las Vegas Metro Area, Including Henderson, Summerlin and Boulder City
1(888)906-7442
Spider infestations are easy to spot—they are usually accompanied by numerous webs and large numbers of baby spiders roaming the walls, ceilings and floors of your house. Spiders are attracted to the comfort of your home particularly in cold or rainy weather. They can enter your home through openings in doors and windows and cracks in walls. Spiders also have a higher occurrence in new construction.
Spiders can be menacing in more ways than just spinning webs all over your home to clean up. Although very few spiders are dangerous, there are some venomous spiders that call Las Vegas home, including the Brown Recluse and southern Black Widow.
Spiders in any home are also generally a good sign that you may have other pests lurking around the nooks and crannies of your home. These creatures love to feed on various other creepy-crawlies, like flies, moths, mosquitoes, butterflies, and even grasshoppers and other insects. If you have spiders, this might be a great time to give JS Pest Control a call!
Black Widow
Black Widows are dangerous. The female, identified by the red hour glass marking on its abdomen, has an enlarged venomous sack. The bite of a black widow is dangerous, though only rarely fatal. These spiders are common in the Las Vegas metro area. Do not fool around with this type of spider, call us immediately.
Brown Recluse
The Brown Recluse is another spider with a particularly harmful bite to humans. The Brown Recluse spider is difficult to distinguish from other spiders as their markings are similar to other species. The Brown Recluse generally stays out of sight. It may never be seen until it gets startled and then it may bite.
Wolf Spider
Wolf Spiders are native to Las Vegas and are found frequently in our area. They can inject venom in their bites when they are provoked.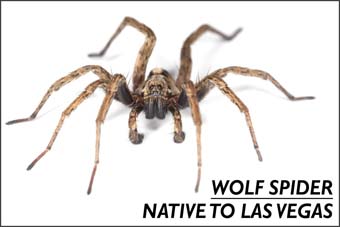 Hobo Spider
Hobo Spiders build webs that are funnel-shaped sheets. They often build these nests in houses and apartments. They may become aggressive if they are defending an egg sac.
Why Choose JS Pest Control To Treat for Spiders?
We conduct an free in home inspection of property

Inspection of exterior, interior, basements & crawlspaces

Create a treatment plan to remove existing spiders, webs & egg sacs

Treat areas where spiders are most likely to come from

All work is guaranteed under a service plan
Why Choose Us?
We've been in business
since 1999.
Locally Owned & Operated
Residential & Commercial Service
Evening & Weekend Appointments Available
24/7 Emergency Service
Free Inspections
Phones Answered by Live Knowledgeable Pest Professionals
All Major Credit Cards Accepted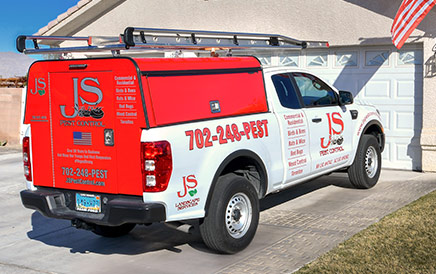 Call JS Pest Control now to find an appointment that is convenient for you and sleep well again.

When you call JS Pest Control, a technician will come to your home or business and perform a complete initial consultation at no charge.

Next, we will develop a pest elimination program designed for you by your technician and our team of in-house entomologists.

Be confident that you will have the best solution for your individual problem. Call JS Pest Control now and schedule your free initial consultation.