JS Pest Control Mosquito Control
Serving The Entire
Las Vegas Metro Area, Including Henderson, Summerlin and Boulder City
JS Pest Control Mosquito Control
Serving the Entire Las Vegas Metro Area, Including Henderson, Summerlin and Boulder City
1(888)906-7442
Signs of Mosquito Infestation
Planning on spending a lot of time outdoors in your yard or having an event outside? Do you think that you may have a mosquito problem at your home or business? Mosquitoes are small, distinctive flies that have thin bodies that measure less than 15mm in length. Mosquito bodies and wings most often are covered in tiny scales. Mosquito problems tend to occur around standing water as mosquitoes and their eggs thrive in damp and humid conditions. This can include clogged gutters, bird baths, ponds, puddles, even old tires. Mosquito traps, bug zappers, and candles help to kill scores of these pests, but it doesn't get to the heart of the problem. It may be necessary to call professional mosquito control experts to help locate and eliminate the mosquito's nests around the home.
Mosquitoes are known carriers of diseases such as West Nile Virus, the Zika virus, Chikungunya virus, Malaria, and other forms of encephalitis. Beyond these diseases, mosquito bites are simply an itchy nuisance no one wants to deal with. The incidence of mosquito infestations grows during the wetter seasons of the year, requiring control. If there is a section of a home's yard where flooding occurs, the stagnant water left behind are the causes of mosquito infestations. With over 20+ years of experience, JS Pest Control knows how to stop mosquitoes where they breed and then establish a protective barrier around your property that keeps them away from you, your family, and friends.
Why Choose JS Pest Control To Treat Mosquitoes?
Following a free thorough inspection, we design a mosquito program that suits your specific needs. Our experts will identify, then treat the areas that mosquitoes breed in by applying a protective perimeter barrier around your home. We target areas where mosquitoes live during daylight hours such as: trees and shrubs. Additionally, we will target mosquito sites to prevent larvae from hatching. By killing mosquitoes at all stages of their life cycles, we prevent them from reproducing. It is also recommended that the homeowner removes any potential breeding grounds to minimize the chances of reinfestation.
Prices for Mosquito Control are based on property size. Call for additional pricing details.
Why Choose Us?
We've been in business
since 1999.
Locally Owned & Operated
Residential & Commercial Service
Evening & Weekend Appointments Available
24/7 Emergency Service
Free Inspections
Phones Answered by Live Knowledgeable Pest Professionals
All Major Credit Cards Accepted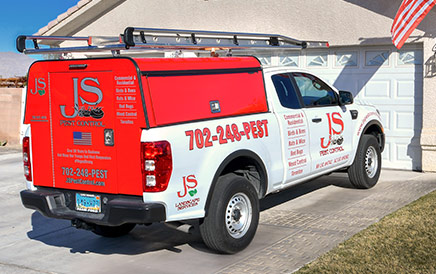 Call JS Pest Control now to find an appointment that is convenient for you and sleep well again.

When you call JS Pest Control, a technician will come to your home or business and perform a complete initial consultation at no charge.

Next, we will develop a pest elimination program designed for you by your technician and our team of in-house entomologists.

Be confident that you will have the best solution for your individual problem. Call JS Pest Control now and schedule your free initial consultation.