JS Pest Control Carpenter Bee Control
Serving the Entire Las Vegas Metro Area, Including Henderson, Summerlin and Boulder City
JS Pest Control Carpenter Bee Control
Serving the Entire Las Vegas Metro Area, Including Henderson, Summerlin and Boulder City
1(888)906-7442
Leave a hole in wood approximately ½ in in diameter
Sawdust around entrance to the nest
May have several little nests near each other
Rarely sting and generally live alone
May come back to the same spot year after year
Could leave yellow-brown stains near the hole
Why Treat For Carpenter Bees
While not dangerous to humans, carpenter bees can be detrimental to the aesthetic of your home. Since they burrow holes in unfinished or weathered wood, you could have holes in the siding, soffits, overhangs, decks, fence posts, fascia boards and window frames of your home. They can cause minor damage at first, however if they return year after year this could cause greater damage in the future. They can create a yellow-brownish stain with their feces near the nest site. Also, since they create small nests, you could find several nests in the same area. Call JS Pest Control today for carpenter bee extermination.
Why Choose JS Pest Control For Carpenter Bee Extermination?
Will fill in holes left by carpenter bees

Will dust holes with treatment materials

Provide free inspection and quote prior to performing treatment

Provide customized treatment plan tailored to address your specific pest problem

Residential and commercial properties
Why Choose Us?
We've been in business
since 1999.
Locally Owned & Operated
Residential & Commercial Service
Evening & Weekend Appointments Available
24/7 Emergency Service
Free Inspections
Phones Answered by Live Knowledgeable Pest Professionals
All Major Credit Cards Accepted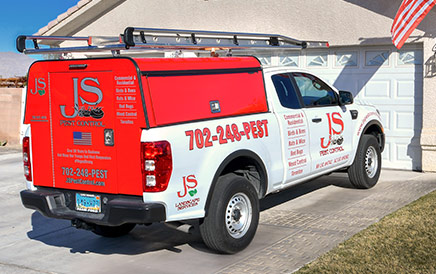 Call JS Pest Control now to find an appointment that is convenient for you and sleep well again.

When you call JS Pest Control, a technician will come to your home or business and perform a complete initial consultation at no charge.

Next, we will develop a pest elimination program designed for you by your technician and our team of in-house entomologists.

Be confident that you will have the best solution for your individual problem. Call JS Pest Control now and schedule your free initial consultation.