JS Pest Control Cricket Control
Serving the Entire Las Vegas Metro Area, Including Henderson, Summerlin and Boulder City
JS Pest Control Cricket Control
Serving the Entire Las Vegas Metro Area, Including Henderson, Summerlin and Boulder City
1(888)906-7442
v
Indian House Crickets
Indian house crickets will enter your home or business through small cracks and openings. These crickets will re-produce indoors. They hide during the day and come out at night to scavenge for food, which could be pet food, crumbs, etc. They can be a nuisance because of chirping and damage they can do to fabrics.
Field Crickets
Field crickets are bigger than Indian house crickets. They are dark, shades of brown and black. Field crickets can gain entry to your home or office through small cracks in foundations and spaces around windows and doors. These crickets will not reproduce in the house. However, they invade homes in search of food and hiding places. Field crickets are known to chew on and damage woolens, cottons, silks, synthetic fabrics, furs and carpeting. They are attracted to clothes with perspiration stains or food spills. Outdoors, they may damage young garden plants and annual flowers.
Why Choose JS Pest Control to Get Rid of Your Cricket Problem?
Technician will perform a full indoor/outdoor inspection of your home and property

Create a customized treatment program specifically designed for your property

Leave you 100% satisfied by eliminating your problem
Why Choose Us?
We've been in business
since 1999.
Locally Owned & Operated
Residential & Commercial Service
Evening & Weekend Appointments Available
24/7 Emergency Service
Free Inspections
Phones Answered by Live Knowledgeable Pest Professionals
All Major Credit Cards Accepted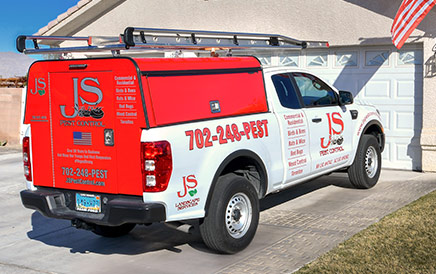 Call JS Pest Control now to find an appointment that is convenient for you and sleep well again.

When you call JS Pest Control, a technician will come to your home or business and perform a complete initial consultation at no charge.

Next, we will develop a pest elimination program designed for you by your technician and our team of in-house entomologists.

Be confident that you will have the best solution for your individual problem. Call JS Pest Control now and schedule your free initial consultation.