Why We Treat Olive Trees
While beautiful, olive trees also can cause a ton of problems for property owners. Olives eventually ripen and fall off the tree leaving your property full of the sticky oily fruit. Not only does this create increased risks of falls, but it also creates a mess. The fruit often stains driveways, patios and sidewalks, and the oils transferred to the soles of your shoes can create stains and mess inside your home as well. If you have an olive tree on your property and you are tired of the mess these trees make, call JS Pest Control.
How We Treat
We apply a safe and effective treatment to your olive trees so that next season it will not produce any fruit. Spraying the tree at just the right time with a growth regulator eliminates the pollen the tree normally produces, allowing you to enjoy the tree in full bloom without having to deal with many, or any, olives. Treatment is recommended during the first quarter of the year for maximum effectiveness, well before flowers begin blooming in the spring/early summer.
Call today to learn more or get a free price quote!
Why Choose Us?
We've been in business
since 1999.
Locally Owned & Operated
Residential & Commercial Service
Evening & Weekend Appointments Available
24/7 Emergency Service
Free Inspections
Phones Answered by Live Knowledgeable Pest Professionals
All Major Credit Cards Accepted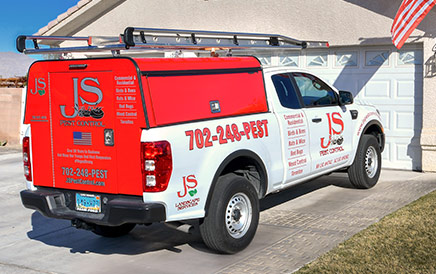 Call JS Pest Control now to find an appointment that is convenient for you and sleep well again.