JS Pest Control Ant Control
Serving the Entire Las Vegas Metro Area, Including Henderson, Summerlin and Boulder City
JS Pest Control Ant Control
Serving the Entire Las Vegas Metro Area, Including Henderson, Summerlin and Boulder City
1(888)906-7442
Ant problem?
JS Pest Control knows ants and how to remove them safely from your home. All work is guaranteed with a service plan. We will identify the type of ant, eliminate the current problem, and provide a plan to prevent ants from coming back.
Signs of Ants
You Should Call JS Pest Control If:
You see stray ants walking around your home

There is a trail of ants leading to exposed food

Your pet's food bowl has ants in it

You notice ant nests outside, close to your house

Wood shavings or flying ants could indicate carpenter ants
Why We Treat
Ants are not only a nuisance, but can cause structural damage and bring health problems. Ants can carry and spread various diseases, including salmonella, smallpox, and dysentery. Exterior ants can cause damage to your lawn. Ant extermination should be done by professionals, as most of the time a simple DIY treatment such as over the counter sprays and repellents will only solve the problem temporarily, or even make it worse. Many ants common to the Las Vegas metro area, such as Argentine Ants, will go through a process called "budding", where foraging ants exposed to these repellents will separate from their colonies with their queen and start new ones. Ants also leave pheromone trails that could lead others right back into your house or business. Ant treatment will also depend on the kind of ant you have. Experts like those at JS Pest Control know how to identify what kind of ants have invaded, where they are entering, and how to find their colonies to eliminate them at the source. Getting professional ant control today will give you peace of mind.
Why Choose JS Pest Control To Treat Ants?

Professional tech identifies species & source of ants

Bait materials placed for ants to bring to queen & colony

Least harmful materials that still are effective

Application methods safe for kids or pets

Recommendations to prevent future infestation
Why Choose Us?
We've been in business
since 1999.
Locally Owned & Operated
Residential & Commercial Service
Evening & Weekend Appointments Available
24/7 Emergency Service
Free Inspections
Phones Answered by Live Knowledgeable Pest Professionals
All Major Credit Cards Accepted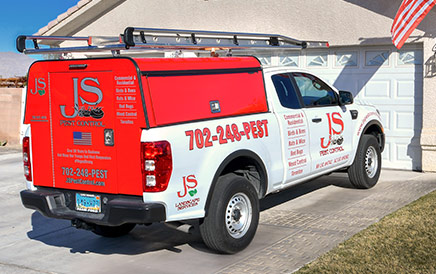 Call JS Pest Control now to find an appointment that is convenient for you and sleep well again.

When you call JS Pest Control, a technician will come to your home or business and perform a complete initial consultation at no charge.

Next, we will develop a pest elimination program designed for you by your technician and our team of in-house entomologists.

Be confident that you will have the best solution for your individual problem. Call JS Pest Control now and schedule your free initial consultation.