JS Pest Control Silverfish Control
Serving the Entire Las Vegas Metro Area, Including Henderson, Summerlin and Boulder City
JS Pest Control Silverfish Control
Serving the Entire Las Vegas Metro Area, Including Henderson, Summerlin and Boulder City
1(888)906-7442
Signs of Silverfish
Living inside of homes and coming out at night to feed, silverfish have destructive appetites that go beyond food. They will eat paper, clothing and other items, causing destruction to personal items in the process. They also reproduce rapidly with some types of silverfish capable of laying up to 20 eggs per day. So when they are spotted inside a home, even one can indicate many more are hiding somewhere or even in the process of eating food or other items that very moment. Oftentimes, they will inhabit dark, damp areas of homes, such as in bathrooms and laundry rooms, and they will come out at night to feed with a voracious appetite.
Why We Treat
Silverfish are one of the more common pests found in the Las Vegas area. They look like a cross between a silver-colored cockroach and a centipede with a rounded head and up to a half-inch long body tapering down to its tail. Homeowners often find them in sinks or bathtubs near the drains or crawling about on the floor. They do not carry disease, which is about the only good thing about them. But they do find their way into foodstuffs and will leave telltale droppings that look like bits of pepper.
Silverfish feed on carbohydrates, so they love to find your cereals and breads but they will eat virtually anything. With their digestive system working swiftly, any sign of them inside a home could indicate they already have contaminated foodstuffs. If there are any signs of silverfish inside a home, it helps to place bread, cereals, sugar and similar foods inside sealable plastic containers. A good pest control company can help to advise how to keep repeat infestations from happening.
Why Choose Us?
We've been in business
since 1999.
Locally Owned & Operated
Residential & Commercial Service
Evening & Weekend Appointments Available
24/7 Emergency Service
Free Inspections
Phones Answered by Live Knowledgeable Pest Professionals
All Major Credit Cards Accepted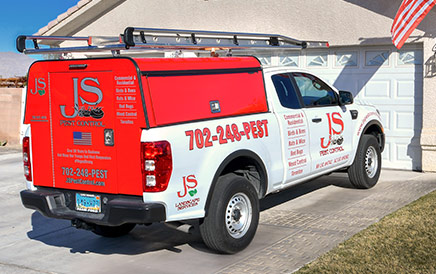 Call JS Pest Control now to find an appointment that is convenient for you and sleep well again.

When you call JS Pest Control, a technician will come to your home or business and perform a complete initial consultation at no charge.

Next, we will develop a pest elimination program designed for you by your technician and our team of in-house entomologists.

Be confident that you will have the best solution for your individual problem. Call JS Pest Control now and schedule your free initial consultation.