JS Pest Control Mud Dauber
Wasp Elimination & Removal
Serving the Entire
Las Vegas Metro Area, Including Henderson, Summerlin and Boulder City
JS Pest Control Mud Dauber
Wasp Elimination & Removal
Serving the Entire Las Vegas Metro Area, Including Henderson, Summerlin and Boulder City
1(888)906-7442
Why Treat for Mud Daubers
Black and yellow mud daubers are common in Las Vegas. They are solitary wasps that are common in yards and areas frequented by humans. They do not defend their nests like other wasps, so they are not as aggressive. However, they are a nuisance because their nests are made of mud and need to be sheltered from the rain. For this reason, they often choose a man-made structure in which to build their nests. You may find them under eaves of houses and office buildings.
Mud Daubers are long and slender and are black and yellow. They look intimidating and make people very uncomfortable if they are flying around. Call JS Pest Control to get rid of Mud Daubers.
Why Choose Us?
We've been in business
since 1999.
Locally Owned & Operated
Residential & Commercial Service
Evening & Weekend Appointments Available
24/7 Emergency Service
Free Inspections
Phones Answered by Live Knowledgeable Pest Professionals
All Major Credit Cards Accepted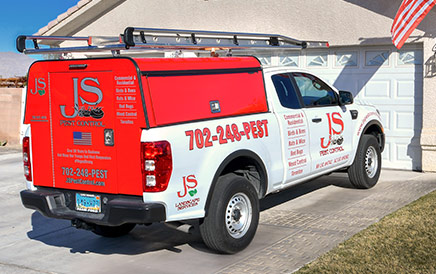 Call JS Pest Control now to find an appointment that is convenient for you and sleep well again.

When you call JS Pest Control, a technician will come to your home or business and perform a complete initial consultation at no charge.

Next, we will develop a pest elimination program designed for you by your technician and our team of in-house entomologists.

Be confident that you will have the best solution for your individual problem. Call JS Pest Control now and schedule your free initial consultation.