JS Pest Control Cockroach Control
Serving the Entire Las Vegas Metro Area, Including Henderson, Summerlin and Boulder City
JS Pest Control Cockroach Control
Serving the Entire Las Vegas Metro Area, Including Henderson, Summerlin and Boulder City
1(888)906-7442
Cockroaches are drawn to all types of food and moisture, and will eat paper, packaging, plastics, and fabrics. These pests are also attracted to dampness and warmth. Typical places to check for cockroach infestations are bathrooms, kitchens, laundry rooms, basements, and drains. With the ability to contaminate food sources, emit pheromones, and shed the outer layer of their skin, cockroaches can spread disease and illness through a variety of modes and need to be treated immediately.
Confirmation Of A Cockroach Problem
There are several signs that cockroaches may be present in your home or business. These include: unpleasant odors; egg cases or discarded nymph skins found in secluded areas; small marks found on horizontal surfaces; droppings that look like coffee grounds or dark smears; and live cockroach activity at night. These extremely resilient pests are found year round and can quickly become problematic if left untreated.
German Cockroaches
Most common cockroach species in most homes & businesses, attracted to warm/moist environments. Coloring varies from tan to light brown. This species has two dark parallel stripes on their backs. They are often found in kitchens and baths and will feed on all food sources, including toothpaste, glue, pet food and grease.
American Cockroaches
Larger cockroach, up to two inches long. Reddish brown, yellowish figure 8 pattern on its head. Found in basements, sewers, drains, and pipes.
Oriental Cockroaches
Very large, dark, and shiny. Lives in sewers and are referred to as "water bugs". Males are 1" long with large wings; Females are about 1 ¼ inch long
Why We Treat Cockroaches
Not only are cockroaches disgusting, they are very unsanitary. Cockroaches also pose plenty of health and safety risks to humans. Cockroaches regurgitate and defecate on their food, which can spread bacteria and parasites that may be living inside them.
A common bacteria called Pseudomonas aeruginosa is found in cockroaches, and can be transmitted to humans. Cockroaches can spread Salmonella bacteria which can cause diseases ranging from food poisoning to typhoid.
If you are asthmatic and have allergies, they can worsen by the presence of cockroaches. Cockroaches produce a protein which can prompt allergic reactions in many people.
Why Choose JS Pest Control For Cockroach Control?
Cockroaches are an adaptable pest that can get used to many living situations. These pests are best controlled when a combination of techniques are used. Cleanliness is important for prevention and to fix the problem.
Professional treatment materials are used to eliminate infestations, especially for German cockroaches, which are highly reproductive. We will treat the areas of the cockroaches preferred harborage locations. Most treatment materials are in liquid form or aerosol sprays, and others are formulated as edible dusts or baits. Gel baits are often used in any nearby cracks and crevices where roaches could enter living areas, and then roaches will take the bait back to their nests and feed the poison to each other.
JS Pest Control strives to remove as many cockroaches as possible to reduce the ones that breed. Your technician will then review any prevention strategies to keep your home pest-free.
Why Choose Us?
We've been in business
since 1999.
Locally Owned & Operated
Residential & Commercial Service
Evening & Weekend Appointments Available
24/7 Emergency Service
Free Inspections
Phones Answered by Live Knowledgeable Pest Professionals
All Major Credit Cards Accepted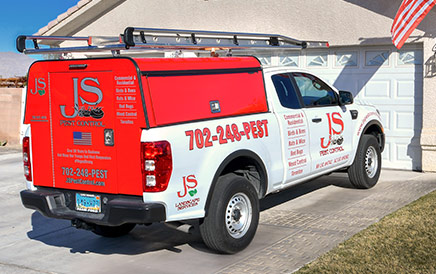 Call JS Pest Control now to find an appointment that is convenient for you and sleep well again.

When you call JS Pest Control, a technician will come to your home or business and perform a complete initial consultation at no charge.

Next, we will develop a pest elimination program designed for you by your technician and our team of in-house entomologists.

Be confident that you will have the best solution for your individual problem. Call JS Pest Control now and schedule your free initial consultation.