JS Pest Control Fruit Fly Control
Serving The Entire
Las Vegas Metro Area, Including Henderson, Summerlin and Boulder City
JS Pest Control Fruit Fly Control
Serving The Entire Las Vegas Metro Area, Including Henderson, Summerlin and Boulder City
1(888)906-7442
You should call an expert if you notice:
Adult fruit flies flying around your house
Adult fruit flies found near trash cans
Adult fruit flies near fermenting vegetables & fruits
Fruit fly pupa, found in dry places
The pupa resembles cockroach or rodent droppings
Fruit flies reproduce quickly and live up to 30 days, making it difficult to get rid of them in your home. Fruit flies are attracted to soda, juice, trash, recycling bins, drains, and overwatered plants. These pests do not pose such serious risks, but are a nuisance to have in your home.
However, they are attracted to unsanitary living conditions and can pick up bacteria on their bodies and spread disease all over your food. We recommend throwing out food that attracts these bugs, like ripened bananas or any decaying fruit.
Thoroughly clean surfaces with an all-purpose product. Clear drains of any resting food or other organic materials. Finally, wash out trash and recycle bins since these might have leftover food or spills on them.
How We Treat
Technician will perform a free inspection, complete a site evaluation, and create a customized treatment plan for your property

Treat and eliminate the adult population

Treat and eradicate the breeding sites

Eliminate food sources and other attractants

Educate to prevent recurrence
Why Choose Us?
We've been in business
since 1999.
Locally Owned & Operated
Residential & Commercial Service
Evening & Weekend Appointments Available
24/7 Emergency Service
Free Inspections
Phones Answered by Live Knowledgeable Pest Professionals
All Major Credit Cards Accepted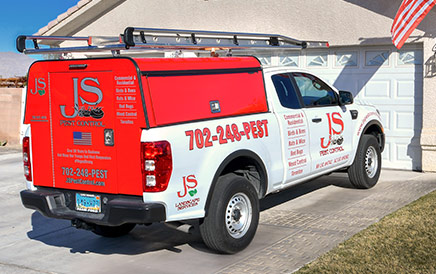 Call JS Pest Control now to find an appointment that is convenient for you and sleep well again.

When you call JS Pest Control, a technician will come to your home or business and perform a complete initial consultation at no charge.

Next, we will develop a pest elimination program designed for you by your technician and our team of in-house entomologists.

Be confident that you will have the best solution for your individual problem. Call JS Pest Control now and schedule your free initial consultation.