JS Lawn Care Services
Serving the Entire
Las Vegas Metro Area, Including Henderson, Summerlin and Boulder City
JS Lawn Care Services
Serving the Entire Las Vegas Metro Area, Including Henderson, Summerlin and Boulder City
1(888)906-7442
JS Lawn Care Services
Environmentally Friendly Lawn Treatment
Fertilizer and Weed Control Programs
JS Landscape Services has extensive experience in lawn care and landscape maintenance. We are committed to protecting and improving the health of your lawn & gardens. Whether you're looking for a one time clean up or an all encompassing maintenance program for your entire yard, we will work to create a solution for you. Some of the services we provide include:
Lawn & Landscape Weed Control

Weeding of Bed Areas & Landscape

Lawn Fertilization & Treatments

Lawn Mowing

Trimming Maintained Areas

Trimming & Shaping Shrubs

Tree Trimming (up to 8 ft)

General Debris Clean Up of Turf & Bed Areas

Blowing

Aeration

Check Irrigation Systems & Timers
JS Landscape Services can also enhance enjoyment of your outdoor spaces with pest control for
ants
,
bees,
birds
and
mosquitoes
; as well as spraying of olive trees and weed control. All lawn services are performed by state-licensed technicians. JS knows how to treat local lawns and is an affordable alternative to the national chains.
Why Choose Us?
We've been in business
since 1999.
Locally Owned & Operated
Residential & Commercial Service
Evening & Weekend Appointments Available
24/7 Emergency Service
Free Inspections
Phones Answered by Live Knowledgeable Pest Professionals
All Major Credit Cards Accepted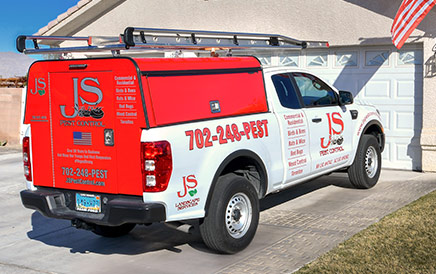 Call JS Pest Control now to find an appointment that is convenient for you and sleep well again.